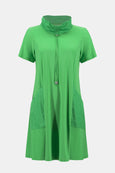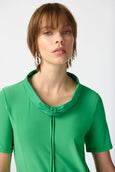 Joseph Ribkoff
Joseph Ribkoff Jersey Dress with Taffeta Cowl Neck & Pocket Detail in Island Green
$199.00 CAD
Joseph Ribkoff Jersey Dress with Taffeta Cowl Neck & Pocket Detail in Island Green
We're bringing basics back without compromising on style or quality. This stunning A-line dress wears like a work of art. The beauty is in the details of its gathered neckline and elegant funnel collar. This piece offers straight short sleeved and is made from a delicate combination of memory and interlock twist yarn fabrics.
96% Polyester, 4% Spandex
Memory/interlock twist yarn fabric
Solid print
Gathered neckline
Funnel collar
Short straight sleeves
Unlined
Hand wash in cold water with like colors
Do not bleach
Hang to dry in the shade
Do not tumble dry
Do not iron
Do not dry clean
Wash garment inside out
Item # 120 231141S24 ISLAND GREEN
Size Chart
FIND YOUR PERFECT FIT
At Toni Plus we strive to give you the perfect fit!
Please use the Brand Fit Selection Tool below to find your size.
*Please note that our toni T. European collections are graded differently than our North American collections. To ensure the fit that is right for you, please select the toni T. European Fit from our size chart.
1. Please choose the brand:
2. Please choose the article group:
3. Please enter your measurements (inches):