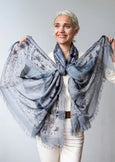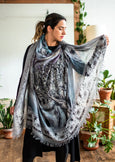 Love's Pure Light
Love's Pure Light "Rooted & Grounded In Love Forever"
$179.00 CAD
"Rooted & Grounded In Love Forever"
Luxury hand painted forever silk/modal blend shawl. 140 cm x 180 cm
May be styled numerous ways or worn as a wrap. Ultra thin fabric, eyelash frayed edge. Hand painted original artwork designed by Love's Pure Light with an inscribed promise. Because a promise is forever.
Designed and made in Canada with love.
Fabric Content: 30% SILK, 70% MODAL
Care: hand wash in cold water with mild soap, air dry
Item # 500 D-367
Size Chart
FIND YOUR PERFECT FIT
At Toni Plus we strive to give you the perfect fit!
Please use the Brand Fit Selection Tool below to find your size.
*Please note that our toni T. European collections are graded differently than our North American collections. To ensure the fit that is right for you, please select the toni T. European Fit from our size chart.
1. Please choose the brand:
2. Please choose the article group:
3. Please enter your measurements (inches):