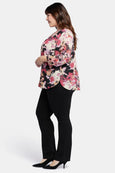 NYDJ
NYDJ 3/4 Sleeve Pintuck Print Blouse in Pink Helena Floral
$129.00 CAD
NYDJ 3/4 Sleeve Pintuck Print Blouse in Pink Helena Floral
NYDJ's Pintuck Blouse in Plus Size boasts a billowy three-quarter-sleeved silhouette that's perfect when paired with any of our slimming denim styles. Pleating at the back yoke creates a sophisticated yet easy drape. Split round neckline with covered full front placket and button closures. This blouse's fabric is made with a sustainable polyester fiber created from 100% post-consumer plastic waste, resulting in less water and energy use and fewer greenhouse gas emissions without changing the look and feel of the fabric. The buttons are made with 50% post-consumer recycled polyester.
100% Polyester (70% is Recycled Polyester)
Made using a certified sustainable fiber created from 100% post-consumer waste from recycled plastic.
Concealed button front; button sleeve detail
Machine wash cold and line dry.
Item # 170 WS1F0537 HELENA PINK FLORAL
Size Chart
FIND YOUR PERFECT FIT
At Toni Plus we strive to give you the perfect fit!
Please use the Brand Fit Selection Tool below to find your size.
*Please note that our toni T. European collections are graded differently than our North American collections. To ensure the fit that is right for you, please select the toni T. European Fit from our size chart.
1. Please choose the brand:
2. Please choose the article group:
3. Please enter your measurements (inches):