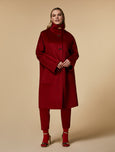 Marina Rinaldi
Marina Rinaldi Trionfo Pure Wool Coat in Rossa
$1,288.00 CAD $1,515.00 CAD
Marina Rinaldi Trionfo Pure Wool Coat in Rossa
-Pure wool broadcloth coat featuring handmade tailored stitching. This lined coat style boasts a straight fit, high funnel neck, long kimono sleeves, a gold metal toggle clasp fastening and patch front pockets. This elegant, warm and soft coat will serve as the perfect all-occasion outerwear item. 
-100% Wool
Item # 100 MRM33-2014033 ROSSA

Size Chart
FIND YOUR PERFECT FIT
At Toni Plus we strive to give you the perfect fit!
Please use the Brand Fit Selection Tool below to find your size.
*Please note that our toni T. European collections are graded differently than our North American collections. To ensure the fit that is right for you, please select the toni T. European Fit from our size chart.
1. Please choose the brand:
2. Please choose the article group:
3. Please enter your measurements (inches):