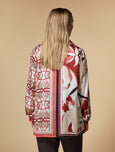 Marina Rinaldi
Marina Rinaldi Biondo Scarf Print Long Sleeve Blouse
$625.00 CAD
Marina Rinaldi Biondo Scarf Print Long Sleeve Blouse
-satin shirt with a foulard placement print, specifically positioned for the style. Lapel collar, long sleeves with buttoned cuffs, button fastening, side vents, straight line. Just put it on to instantly elevate any look. 
-100% Poly
Item # 170 MRM33-2114143 ROUGE/CORAL
Size Chart
FIND YOUR PERFECT FIT
At Toni Plus we strive to give you the perfect fit!
Please use the Brand Fit Selection Tool below to find your size.
*Please note that our toni T. European collections are graded differently than our North American collections. To ensure the fit that is right for you, please select the toni T. European Fit from our size chart.
1. Please choose the brand:
2. Please choose the article group:
3. Please enter your measurements (inches):