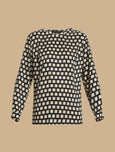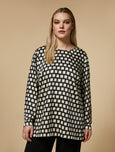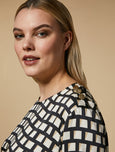 Marina Rinaldi
Marina Rinaldi Bijou Geo Print Collarless Blouse in Blk/Wht
$435.00 CAD
Marina Rinaldi Bijou Geo Print Collarless Blouse in Blk/Wht
Twill blouse with exclusive geometric print. Round neck, long, loose sleeves with buttoned cuffs, golden metal button fastening on the shoulder, side slits, straight line. A graphic, weightless touch to make all your outfits feminine. 
-100% Poly
Item # 170 MRM33-2114193 BLK/WHT
Size Chart
FIND YOUR PERFECT FIT
At Toni Plus we strive to give you the perfect fit!
Please use the Brand Fit Selection Tool below to find your size.
*Please note that our toni T. European collections are graded differently than our North American collections. To ensure the fit that is right for you, please select the toni T. European Fit from our size chart.
1. Please choose the brand:
2. Please choose the article group:
3. Please enter your measurements (inches):