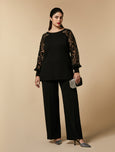 Marina Rinaldi
Marina Rinaldi Asia Lace Sleeve Sweater in Black
$775.00 CAD
Marina Rinaldi Asia Lace Sleeve Sweater in Black
-Sweater in warm-hand stretch viscose yarn featuring velvet lace inserts on the sleeves, which create decorative detail at the yoke. Round neckline, relaxed fit, ribbed cuff-embellished long sleeves and side slits. Ideal for elegantly completing your special looks. 
-70% Viscose, 30% Polyamide
Item # 180 MRM33-4363083 BLACK
Size Chart
FIND YOUR PERFECT FIT
At Toni Plus we strive to give you the perfect fit!
Please use the Brand Fit Selection Tool below to find your size.
*Please note that our toni T. European collections are graded differently than our North American collections. To ensure the fit that is right for you, please select the toni T. European Fit from our size chart.
1. Please choose the brand:
2. Please choose the article group:
3. Please enter your measurements (inches):