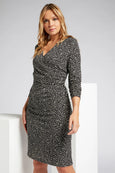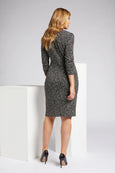 Luisa Viola
Luisa Viola Jersey Print Faux Wrap Dress with Long Sleeve
$498.00 CAD
Luisa Viola Jersey Print Faux Wrap Dress with Long Sleeve
Micro-patterned dress in stretch jersey with a tailored fit. V-neck, crossed bodice with draping. Long sleeve, lined.
Suitable for multiple occasions, this "wrap dress" (literally the dress that wraps) is the result of an elaborate modeling study, with a particularly flattering constructed drape. 
Fabric 92% PL, 8% EA
Item # 120 7818F100991N BLACK/WHITE
Size Chart
FIND YOUR PERFECT FIT
At Toni Plus we strive to give you the perfect fit!
Please use the Brand Fit Selection Tool below to find your size.
*Please note that our toni T. European collections are graded differently than our North American collections. To ensure the fit that is right for you, please select the toni T. European Fit from our size chart.
1. Please choose the brand:
2. Please choose the article group:
3. Please enter your measurements (inches):