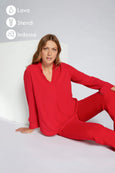 Luisa Viola
Luisa Viola Doppia Georgette Placket Front Blouse in Rosso
$265.00 CAD
Luisa Viola Doppia Georgette Placket Front Blouse in Rosso
Crepe de chine blouse with a slightly flared line and side vents. Shawl collar, with pleat on the center front. Long sleeve with cuff

This shirt was made in an easy care fabric, easy to maintain: the garment can be washed, hung and worn without the need to be ironed. An item from the "Mara Venier for Luisa Viola" collection.
Fabric 100% Poly
Item # 170 2005F001565N ROSSO
Size Chart
FIND YOUR PERFECT FIT
At Toni Plus we strive to give you the perfect fit!
Please use the Brand Fit Selection Tool below to find your size.
*Please note that our toni T. European collections are graded differently than our North American collections. To ensure the fit that is right for you, please select the toni T. European Fit from our size chart.
1. Please choose the brand:
2. Please choose the article group:
3. Please enter your measurements (inches):