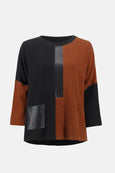 Joseph Ribkoff
Joseph Ribkoff Stretch Knit Mix Media Top
$165.00 CAD
Joseph Ribkoff Stretch Knit Mix Media Top
This colour-block top perfectly toes the line between a casual and a formal piece — it all depends on how you style it. With a scoop neckline and three-quarter dolman sleeves, this boxy top is made from high-end jacquard fabric. There is leatherette detailing down its front as well as on its pocket.
81% Polyester, 15% Viscose rayon, 4% Spandex
Jacquard and leatherette fabric
Scoop neckline
Three-quarter dolman sleeves
Unlined
Hand wash in cold water with like colors
Do not bleach
Hang to dry in the shade
Do not tumble dry
Low iron only if needed
Do not dry clean
Wash garment inside out
Item # 190 233055 BLK/TANDOORI
Size Chart
FIND YOUR PERFECT FIT
At Toni Plus we strive to give you the perfect fit!
Please use the Brand Fit Selection Tool below to find your size.
*Please note that our toni T. European collections are graded differently than our North American collections. To ensure the fit that is right for you, please select the toni T. European Fit from our size chart.
1. Please choose the brand:
2. Please choose the article group:
3. Please enter your measurements (inches):