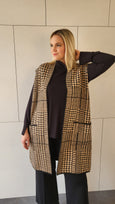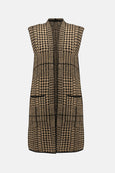 Joseph Ribkoff
Joseph Ribkoff Houndstooth Long Plaid Vest
$189.00 CAD
Joseph Ribkoff Houndstooth Long Plaid Vest
This elegant vest features a timeless houndstooth pattern and a sleeveless design. Its straight silhouette gives it a formal touch, while the super-soft knit fabric and classic jacquard finishes make it a luxurious choice for layering.
76% Acrylic, 20% Polyester, 4% Spandex
Knit and jacquard fabrics
Sleeveless
Unlined
Hand wash in cold water with like colors
Do not bleach
Lay flat to dry in the shade
Do not tumble dry
Low iron only if needed
Professional dry clean
Wash garment inside out
Low iron on reverse side only if needed
Exclusive of trims
Wash pieces separately
Item # 185 233957 CAMEL/BLK
Size Chart
FIND YOUR PERFECT FIT
At Toni Plus we strive to give you the perfect fit!
Please use the Brand Fit Selection Tool below to find your size.
*Please note that our toni T. European collections are graded differently than our North American collections. To ensure the fit that is right for you, please select the toni T. European Fit from our size chart.
1. Please choose the brand:
2. Please choose the article group:
3. Please enter your measurements (inches):