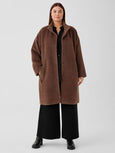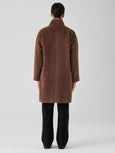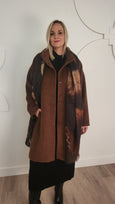 Eileen Fisher
Eileen Fisher Sheared Suri Alpaca Stand Collar Coat
$804.00 CAD $945.00 CAD
Eileen Fisher Sheared Suri Alpaca Stand Collar Coat
Luxuriously warm and surprisingly lightweight. The alpaca coat, with sheared texture. With a stand collar and snap closure.
A generous, boxy fit that drapes away from the body to create movement.
Stand collar, drop shoulder, snap buttons.

Welt pockets, center back seam.
Fully lined in cupro.
From herds high in the Andes, the long, lustrous fiber of the Suri alpaca—a breed distinguished by its silky fleece. Our sleek weave is brushed and sheared for surface texture. Alpaca is a light and hollow fiber that adds warmth without weight. Spun, dyed and woven in Peru.
Dry clean only.
Made in Peru. 56% Wool/39% Suri Alpaca/5% Nylon.
Item # 100 F3AO-C2032M AUBURN
Size Chart
FIND YOUR PERFECT FIT
At Toni Plus we strive to give you the perfect fit!
Please use the Brand Fit Selection Tool below to find your size.
*Please note that our toni T. European collections are graded differently than our North American collections. To ensure the fit that is right for you, please select the toni T. European Fit from our size chart.
1. Please choose the brand:
2. Please choose the article group:
3. Please enter your measurements (inches):