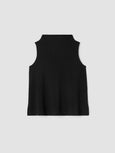 Eileen Fisher
Eileen Fisher Organic Cotton Jersey Funnel Neck Sleeveless Tank in Black
$120.00 CAD
Eileen Fisher Organic Cotton Jersey Funnel Neck Sleeveless Tank in Black
The funnel neck tank—an effortless basic with side slits. In smooth jersey made from soft organic Pima cotton.
Made in Peru. 92% Organic Pima Cotton/8% Spandex.
Close at the shoulders, wider at the hem. A silhouette that fits the body with ease.
Funnel neck, sleeveless.
3-inch side slits.
Machine wash cold with similar colors, gentle cycle.
Item # 190 S3OJP-U4275M BLACK
Size Chart
FIND YOUR PERFECT FIT
At Toni Plus we strive to give you the perfect fit!
Please use the Brand Fit Selection Tool below to find your size.
*Please note that our toni T. European collections are graded differently than our North American collections. To ensure the fit that is right for you, please select the toni T. European Fit from our size chart.
1. Please choose the brand:
2. Please choose the article group:
3. Please enter your measurements (inches):