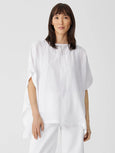 Eileen Fisher
Eileen Fisher Linen Blend Tone on Tone Sheer Check Poncho in White
$228.00 CAD
Eileen Fisher Linen Blend Tone on Tone Sheer Check Poncho in White
The poncho. An effortless layer with a bateau neck and subtly curved hem. In a lightweight blend of linen and cotton with alternating squares of sheer and opaque texture.
A generous, boxy fit that drapes away from the body to create movement.
Bateau neck, open sides with ties.
A subtly sheer blend of linen and cotton woven for a textural plaid effect.Perfect for creating relaxed and breezy shapes.
Hand wash cold.
66% Organic Linen/34% Organic Cotton.
Item # 190 S3AMN-N1485M WHITE
Size Chart
FIND YOUR PERFECT FIT
At Toni Plus we strive to give you the perfect fit!
Please use the Brand Fit Selection Tool below to find your size.
*Please note that our toni T. European collections are graded differently than our North American collections. To ensure the fit that is right for you, please select the toni T. European Fit from our size chart.
1. Please choose the brand:
2. Please choose the article group:
3. Please enter your measurements (inches):