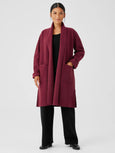 Eileen Fisher
Eileen Fisher Lightweight Boiled Wool High Collar Knee Length Coat
$578.00 CAD
Eileen Fisher Lightweight Boiled Wool High Collar Knee Length Coat
The high collar coat, a warm layer in a smooth and structured knit. With patch pockets and dramatic side slits. Soft and drapey in boiled wool with regenerative fiber from farms that support soil health and biodiversity.
A generous, boxy fit that drapes away from the body to create movement.
High collar with folded edge, drop shoulder, open front.
Front pockets, 9-inch side slits, seam-out details.
Raw edge hem.
Includes a yarn-wrapped pin for closure.
Eileen Fishers best-selling Lightweight Boiled Wool knit, now with regenerative wool fiber. The wool is not only responsibly sourced, it's helping to regenerate depleted grassland in Argentina with potential to sequester carbon and fight climate change.
Dry clean only. 
100% Wool.
Item # 185 F3BWN-C2078M RED CEDAR
Size Chart
FIND YOUR PERFECT FIT
At Toni Plus we strive to give you the perfect fit!
Please use the Brand Fit Selection Tool below to find your size.
*Please note that our toni T. European collections are graded differently than our North American collections. To ensure the fit that is right for you, please select the toni T. European Fit from our size chart.
1. Please choose the brand:
2. Please choose the article group:
3. Please enter your measurements (inches):