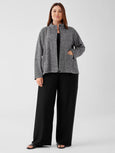 Eileen Fisher
Eileen Fisher Cotton Tweed Stand collar Zip Front Jacket in Black/White
$325.00 CAD
Eileen Fisher Cotton Tweed Stand collar Zip Front Jacket in Black/White
A versatile stand collar jacket with a zip front and patch pockets. In a structured, stretchy weave made from organic cotton.
Close at the shoulders, wider at the hem. A silhouette that fits the body with ease.
aprox. 23" length
Stand collar, hidden placket with zipper closure.
Snap buttons at collar and zipper end; front patch pockets.
Structure with stretch. Subtly textured organic cotton woven with two colors of yarn for a speckled effect.
Machine wash cold.
Made in Indonesia. 99% Organic Cotton/1% Elastane
Item # 130 F3VBZ-J5664M BLK/WHT
Size Chart
FIND YOUR PERFECT FIT
At Toni Plus we strive to give you the perfect fit!
Please use the Brand Fit Selection Tool below to find your size.
*Please note that our toni T. European collections are graded differently than our North American collections. To ensure the fit that is right for you, please select the toni T. European Fit from our size chart.
1. Please choose the brand:
2. Please choose the article group:
3. Please enter your measurements (inches):