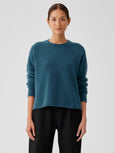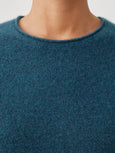 Eileen Fisher
Eileen Fisher Cashmere Silk Boucle Bliss Crew Neck Box Top in Alpine
$635.00 CAD
Eileen Fisher Cashmere Silk Boucle Bliss Crew Neck Box Top in Alpine
A simple silhouette with blissfully soft texture. The crew neck top with subtle side slits, in a sumptuous blend of cashmere and silk you'll reach for all season long.
A generous, boxy fit that drapes away from the body to create movement.
Crew neck, drop shoulder.

3-inch side slits.
Finished with a rolled edge at the neck.
One of the softest and most luxurious yarns. An Italian boucle with textural poufs of cashmere and silk.
Hand wash cold. May be dry cleaned.
Made in Romania. 72% Cashmere/17% Silk/10% Nylon/1% Elastane.
Item # 180 F3MPW-W6060M ALPINE
Size Chart
FIND YOUR PERFECT FIT
At Toni Plus we strive to give you the perfect fit!
Please use the Brand Fit Selection Tool below to find your size.
*Please note that our toni T. European collections are graded differently than our North American collections. To ensure the fit that is right for you, please select the toni T. European Fit from our size chart.
1. Please choose the brand:
2. Please choose the article group:
3. Please enter your measurements (inches):