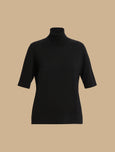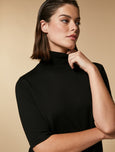 Marina Rinaldi
Marina Rinaldi Alfa Extra Fine Merino Short Sleeve Turtleneck Sweater in Black
$470.00 CAD
Marina Rinaldi Alfa Extra Fine Merino Short Sleeve Turtleneck Sweater in Black
This sweater is made of superfine pure merino wool. The semi-fitted style boasts a high neck and short sleeves. The fine yarn and essential fit ensure that the garment can be effortlessly paired with anything in your wardrobe. 
-100% Merino
Item # 180 MRM33-2363213 BLACK
Size Chart
FIND YOUR PERFECT FIT
At Toni Plus we strive to give you the perfect fit!
Please use the Brand Fit Selection Tool below to find your size.
*Please note that our toni T. European collections are graded differently than our North American collections. To ensure the fit that is right for you, please select the toni T. European Fit from our size chart.
1. Please choose the brand:
2. Please choose the article group:
3. Please enter your measurements (inches):